Information Technology (IT) Personality of the Year 2015
Nominees:
Engr. (Mrs.) Florence Seriki FNCS – Group Managing Director of Omatek Ventures Plc
Engr. Etim Amana – Group Managing Director of the MIS GROUP
How to vote
Venue: MUSON Centre, Onikan, Lagos
Date: November 26, 2015
Time: 5.00pm prompt
Attendance: Strictly by registration/invitation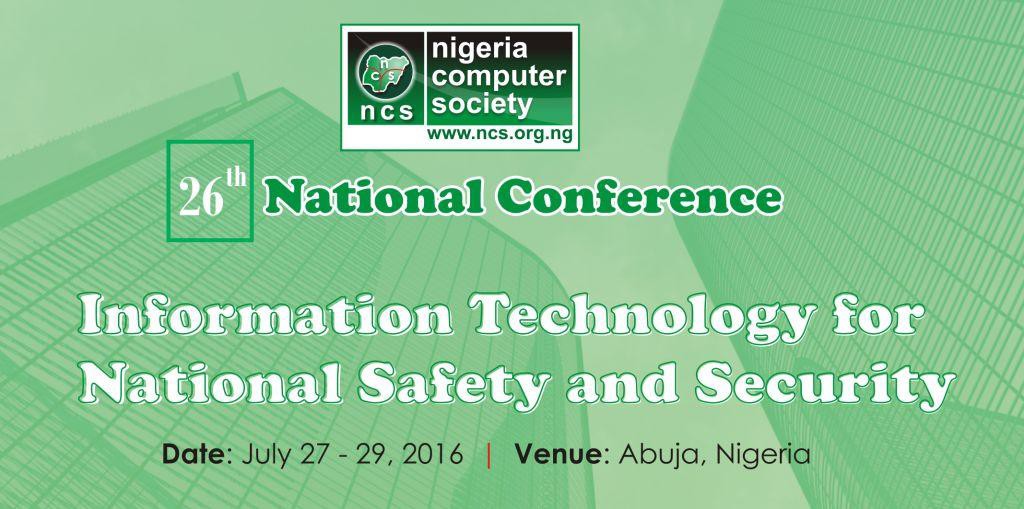 Preamble:
Security is one of the most critical issues in Nigeria. In the 21st century, nations invest in Information Technology as the key enabler for National Security. The 26th National Conference will provide a multi-stakeholder forum to examine pertinent considerations in achieving IT enabled Security to advance and achieve Sustainable Development. Engagement opportunities will be explored during the Conference to present and develop effective strategies, creative approaches and practical solutions. The Conference intends to bring together academics, innovators, researchers, entrepreneurs, IT practitioners, policy makers in government and business people.

Date: November 17 – 19, 2015
Venue: International Conference Centre, Abuja, Nigeria
Theme:
Towards an Effective Electoral Process in Nigeria: The Role of ICT Local Content and Information Security
Sub Themes:
Reengineering National electoral processes through the adoption of high-tech electronic voting system
Information Security compliance on indigenous ICT innovations for improving electoral process
Indigenous ICT products and content usage for development and management of electoral process
Leveraging on Information Security Risk Management standard to enhance Nigerian local content product and services for effective information risk control.
Building ICT entrepreneurs for a sustainable electoral process in Nigeria
Courtesy Visit to the Secretary to the Government of the Federation (SGF): Thursday September 10, 2015