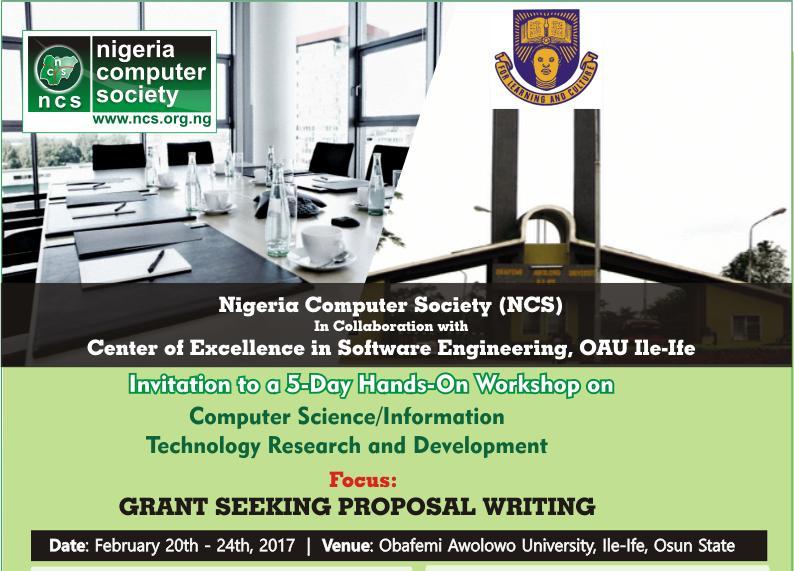 Objective: to build collaborative, purposeful and rigorous research efforts towards nation building
Date: February 20th – 24th, 2017
Venue: Centre for Excellence in Software Engineering, Obafemi Awolowo University, Ile-Ife, Osun State

Preamble:
Sustainable development has become one of the major global issues of this era. In recognition of the world's need for sustainability, the 17 Sustainable Development Goals (SDGs) of the 2030 Agenda for Sustainable Development adopted by world leaders at the United Nations summit in September 2015 came into force on 1 January, 2016. Information Technology enabled innovation is integral to incorporating sustainability into global development. The 13th International Conference will provide a unique opportunity to bring together stakeholders from government, industry, academia, the United Nations, multilateral agencies, international organizations, youth groups and civil society to share knowledge and experiences towards leveraging IT Innovation to achieve more sustainable and inclusive societies. Actionable initiatives and solutions will be developed through collaborative dialogue, keynotes, presentations, demonstrations and panels during the Conference.
Venue: MUSON Centre, Onikan, Lagos
Date: November 30, 2016
Time: 5.00pm prompt
Attendance: Strictly by registration/invitation
Research and Development, UNN Hosts NCS to Organise Workshop
As part of corporate responsibilities of Nigeria Computer Society, and in pursuance of its vision and mission of Research and manpower development, Nigeria Computer Society held its fourth Research and Development Workshop at the ICT/Innovation centre University of Nigeria Nsukka. The workshop which stated on Tuesday 11th October 2016 came to an end on Thursday 13th October 2016. Read the rest of this entry »
The Nigeria Computer Society (NCS) acknowledged the redemption of the N15.75 million Scholarship pledge made by the Chairman of Zenith Bank Plc, and Cyberspace Ltd, Mr Jim Ovia FNCS.
The pledge was made on November 26, 2015 during the annual National Information Technology Merit Awards (NITMA) organized by NCS to celebrate, recognise and award medals to every worthy professional in the Information Technology industry.
Mr. Jim Ovia also promised automatic employment in Zenith Bank Plc or Cyberspace Ltd to any of the beneficiaries of the scholarship that graduated with second class upper division in ICT annually.
The NCS Scholarship Scheme is one of the corporate responsibilities geared towards mentoring and monitoring Nigeria youths for ICT sustainability.

COMMUNIQUÉ OF THE 26TH NATIONAL CONFERENCE AND 49TH ANNUAL GENERAL MEETING (AGM) OF THE NIGERIA COMPUTER SOCIETY (NCS), HELD AT THE NAF CONFERENCE CENTRE, ABUJA, NIGERIA FROM 19-21ST JULY, 2016
1.0 Preamble:
The Nigeria Computer Society (NCS) was established in 1978 as the umbrella body for all Information Technology practitioners in Nigeria. The Society comprises of various interest groups in the ICT industry namely: Information Technology in Academia, the Institute for Software Practitioners of Nigeria (ISPON), the Information Technology Association of Nigeria (ITAN), the Internet Services Provider Association of Nigeria (ISPAN), Information Technology Systems & Security Professionals (ITSSP), Nigeria Information Technology Professionals in Civil Service (NITCS), Nigerian Women in IT (NiWIIT) and the National Association of Computer Science Students (NACOSS). This year's conference was held at the NAF Conference Centre, Abuja, Nigeria.