Mr Akpodigha Filatei FNCS, CEO Guarantee Turnkey Systems Ltd, was named as the NCS Information Technology (IT) Personality of the Year 2016 at the just concludedNational Information Technology Merit Awards organised by the Nigeria Computer Society (NCS) on Wednesday, November 30, 2016 at the MUSON Centre. Mr Akpodigha Filatei was nominated alongside Mr. Andy Nwani of Dataflex Nigeria Limited and Mr. Tosin Ilesanmi of RLG Limited for the prestigious Award. He emerged the winner of the Award after receiving the highest number of votes in an online contest on NCS Membership Portal.
Profiles:
---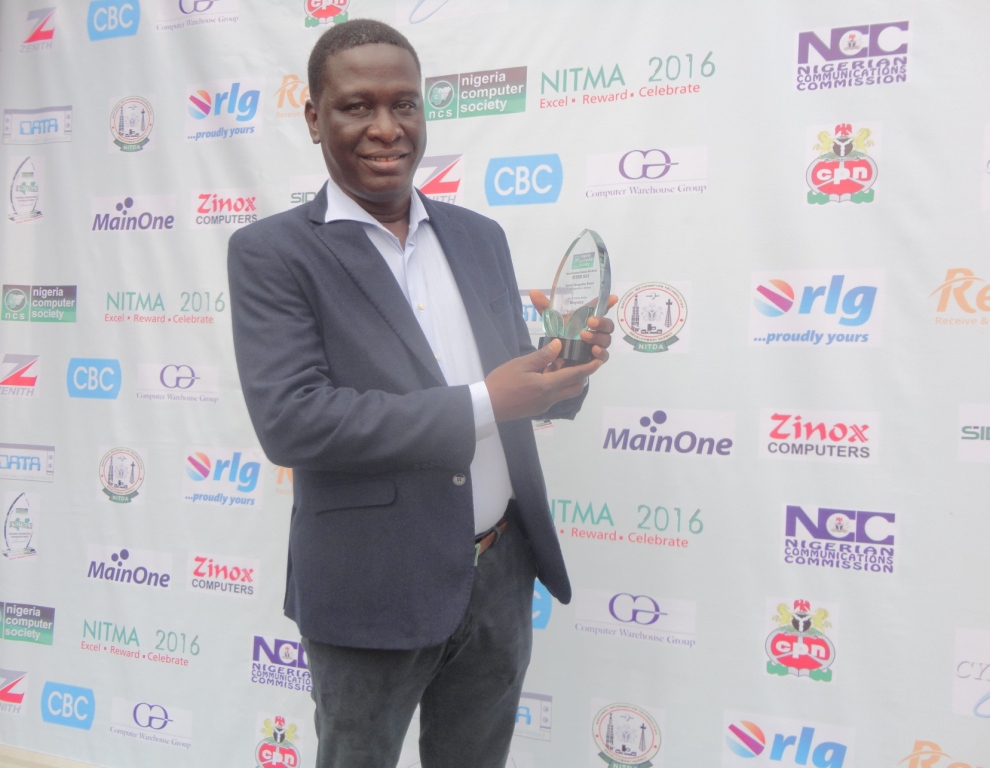 Akpodigha Filatei
Mr Akpodigha Filatei holds a 1994 Bachelor of Science degree in Computer Engineering (First Class Honours) from the Obafemi Awolowo University, Ile-Ife and a Master of Science degree in Computer Science from the University of Western Ontario, London, Ontario, Canada where he was a scholar of the Ontario Research Centre for Computer Algebra (ORCCA). He has also obtained executive certificate programmes in entrepreneurship at Harvard Business School and London Business School.
He has been active in the ICT industry working for companies such as ExxonMobil, Western Geophysical, GTBank, IBM and Morgan Stanley in Nigeria, USA, and the Government of Alberta, in Canada.
In the past 5 years, he has focused on Entrepreneurship with wide industrial interests including technology and local manufacturing and Petrochemicals. His efforts identify products that local and underserved peoples need that they may not have readily due to distance from production and then localize production.
He was former President of the OAU, Ile-Ife NACOSS (Nigerian Association of Computer Science Students) and the 1993 Western Zonal President of the NACOSS Western Zone. As Zonal President, he initiated the first ever Western Zonal Convention on the Challenges of Computer Education in Nigeria in 1993. The event brought together students and faculties of Computer Science Departments in Polytechnics and Universities in the Western Zone for a one-week conference at the Ife Campus. The event was a huge success that attracted dignitaries such as the then Education Minister, the leadership of OAU, then COAN (Computer Association of Nigeria) President and Industry leaders. Computer Education, especially at the OAU has not been the same since that event. A philanthropist par excellence, Mr Filatei is deeply involved with various community development efforts.
---
Tosin Ilesanmi – Nominee

I remind myself that my achievements in life depends on the labor of other people, living and dead, and that I must exert myself in order to give in the same measure as I have received and am still receiving.
Focused on giving back to the society through skill and experiences acquired over the last 15years while successfully working the ropes of my professional career.
I have proven methodologies to bring a fresh, dynamic and go-getting approach to start up business and sustain them.
Exceptionally pro-active, out-of-box thinker and a dedicated professional that sees opportunities in huddles.
ACHIEVEMENT
Championed the training and empowerment of 5000 unemployed youths under the ICT module, with emphasis on mobile phones, laptops assemblage and repairs in Osun state, Nigeria.
Spear-headed the design and construction of the first combined mobile phone and laptop assembly factory in Nigeria. RLG-ADULAWO Technology city. A facility with the capacity to produce about 4 million devices and retain about 5000 jobs locally.
Led a formidable team to achieve the revered ISO certification for RLG communications. ISO 9001:2008 for Quality management system within 2 years of start-up.
Through my start up initiative for SWAP Ghana and RLG Nigeria, over 2400 individuals have been empowered.
Was awarded an honorary Doctorate degree in Business administration from Common wealth University Belize, UAE for my efforts in human development and empowerment over the years.
Was recognized by Rotary club of Alagbado – Lagos for my contribution to humanity in 2014.
Member Nigerian computer society of Nigeria
Nominee 2015 information technology personality award for the year – NCS
Fellow ; Institute of brand management of Nigeria
Current Project Handling
Implementation of the national switch over from analogue to digital Television through NTA/TVE. Aimed at Job creation and retainer – Local assemblage and configuration of set up boxes
Implementation of e-learning program for Ministry of education and technology in Kaduna state. Aimed at improving interest and quality of education in public schools.
Conceptualization and project management of training and empowerment of Niger state youth. Aimed at empowering over 10,000 beneficiaries.
---
Andy Nwani – Nominee

Mr. Andy Nwani is the founder and CEO of Dataflex Nigeria Limited, a leading Information and Communications Technology Company in Nigeria.
He had his secondary school education at King's College Lagos and subsequently studied at the University of Ife where he graduated with a degree in Economics in 1982.
He started his working career as a marketing executive with Agip Nigeria Limited in 1983 from where he left to set up Dataflex Nigeria Limited in 1988.
Over the past 28years that he has been an entrepreneur, Mr. Nwani has continued to contribute professionally within the ICT industry and has also extended his experience to benefit other sectors including education, media and oil & gas sectors.  Today he sits on the boards of the following organizations:
Prima Garnet Ogilvy –           Chairman
Bell Oil & Gas             –           Chairman
Meadow Hall Schools –           Director
141 Worldwide –           Director
Media Share –           Director
Dataflex is also the recipient of the following professional awards:
ICT Company of the year 2016 (Beacon of ICT awards).
Specialized Oracle Partner of the year for Africa 2014.
ICT Reseller of the year 2014.
Innovative Company of the year.
HP Africa Partner of the year 2011.
He is also a member of the following bodies:
Institute of Directors.
Nigeria America Chamber of Commerce.
Nigeria Computer Society.
Lagos Angel Network – A mentorship programme for aspiring entrepreneurs.
He was recently appointed by the Government into the ICT Committee of the Nigeria Local content commission.
His social interests include memberships of the following organizations:
The Lagos Polo Club.
The Apapa Boat Club
Ikoyi Club 1938
The Metropolitan Club.
Mr. Nwani is married with three children.
---