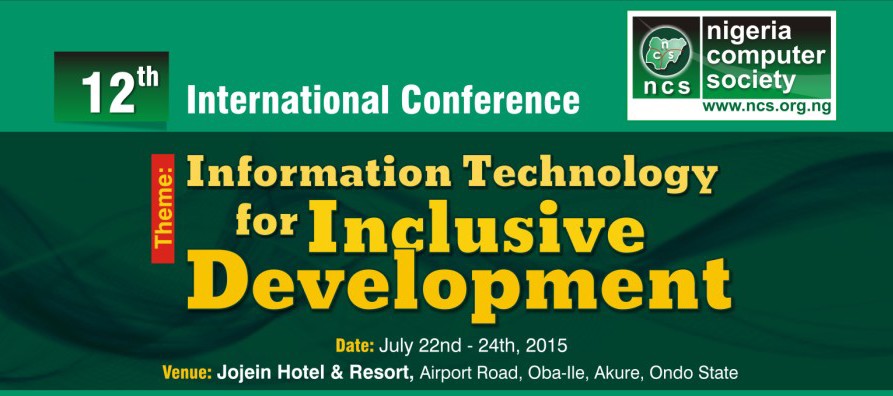 Conference Proceedings & Papers Presented at the 12th International Conference
The 12th International Conference is intended to provide a forum for Policy Makers, Public and Private Sector, Information Technology Practitioners and the Academia to keep up-to-date with technology trends and to discover opportunities for the private sector in the process of inclusive development and avenues for public-private partnerships towards realizing the IT objectives within the context of Millennium Development Goals (MDG). The Conference will provide opportunities for the delegates to exchange new ideas, establish business or research relations, and find global partners for future collaborations.
Theme: Information Technology for Inclusive Development
Date: Wednesday, July 22 to Friday, July 24, 2015
Venue: Jojein Hotels & Resort, Airport Road, Akure – Ondo State, Nigeria
 Download Conference Proceedings Here

Sub-themes:
NCS is pleased to invite papers from researchers, academia, policy makers, industry professionals from all over the World to present their research results and activities within the following Conference Sub-themes
Smart city & broadband penetration
Innovation and Leadership in IT
Cashless Society & e-Payment systems
Critical Information Infrastructure Protection (CIIP)
Cloud computing & Big data
Social Networks
Next Generation Networking and the Internet
IT Human Capital Development (Mentorship)
e-Health/e-Education/e-Agriculture/e-Tourism/e-Government
Entrepreneurship development in the IT sector
Software Technologies/Local Content Issues
Mobility for Inclusion
Funding Nigerian IT Industry
Marketing and Selling Made-in-Nigeria Software
Papers Presented at the 12th NCS International Conference:
Plenary Session 1: Wednesday, July 22, 2015
Plenary Session 2: Wednesday, July 22, 2015
Plenary Session 3: Thursday, July 23, 2015
---
For Further Enquiries, Contact:
The National Secretariat:
Plot 10, Otunba Jobi Fele Way, Behind MKO Abiola Gardens, Alausa, Ikeja – Lagos. Tel: +234(0)17744600
|
E-mail: conferences@ncs.org.ng
Taiwo
on +234(0)8098647348
|
taiwo@ncs.org.ng
or
Goke
on +234(0)8033475299
|
goke@ncs.org.ng
Abuja Office:
AGA Memorial Complex, 16, Nkwere Crescent, Garki 2, Area 11 Abuja.
Sunday
on +234(0)7033020271
|
sunday@ncs.org.ng