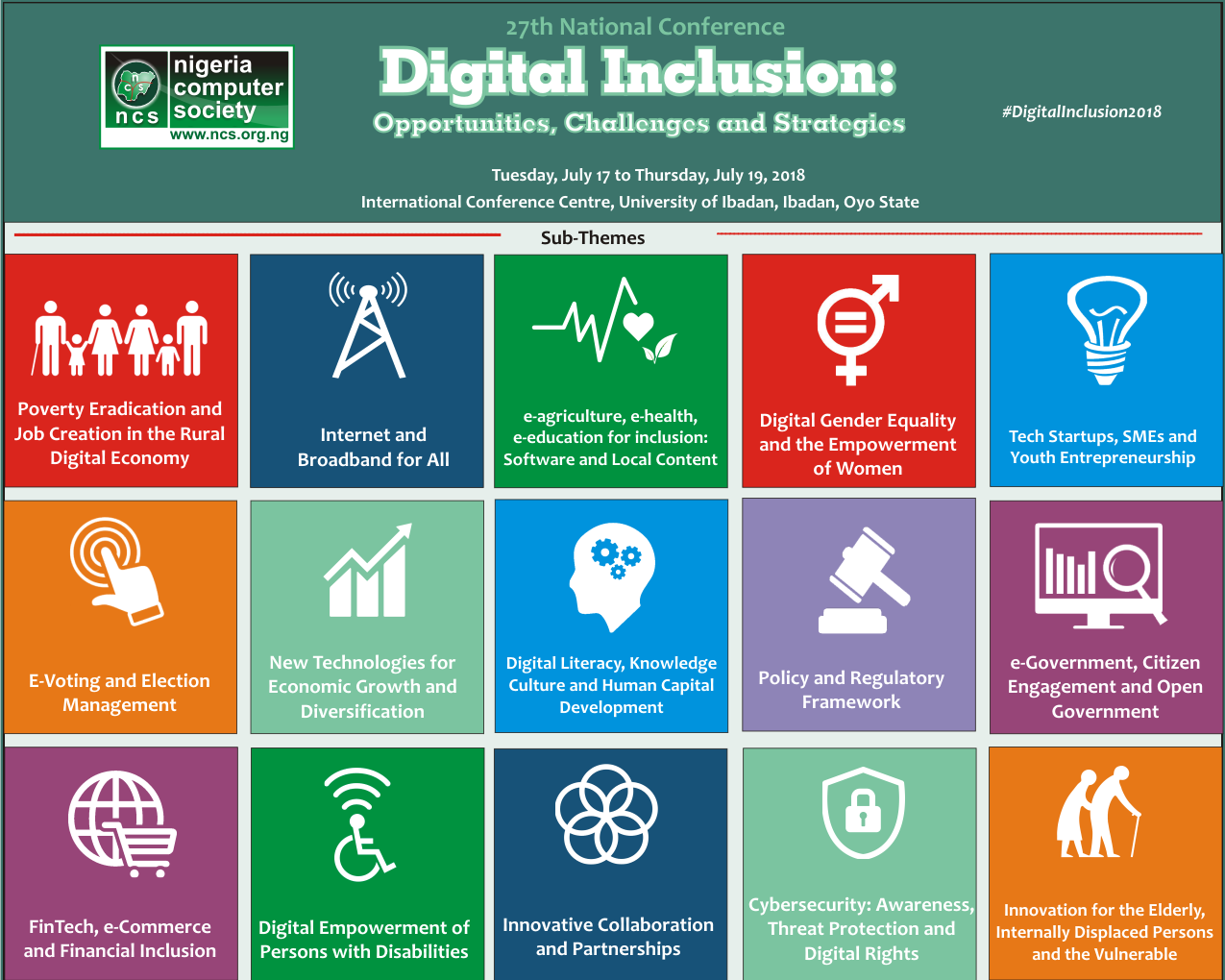 Preamble:
While IT deployment and development in Nigeria continues to increase, experiences and benefits of IT and the Internet have largely not been widespread. The most socially and economically excluded such as women, individuals living with disabilities, MSMEs, young people, the poor, the rural populace as a whole are largely digitally excluded. In today's 21st century world, access to the internet, digital devices, and technical skills is however essential for full participation in the society and economy. Despite advances the fact that many are unable to realize their potential in the digital world is a big obstacle to development.
Digital activity has increased but digital impact lags behind. Irrespective of how impressive the goals and level of investment, IT initiatives in the absence of inclusion continue to reinforce inequalities and hinder overall tech enabled development. Improving inclusion is not an end in itself, but is required most critically at this time to ensure leverage on IT to significantly improve healthcare, poverty reduction, job creation, education, governance and food security.
With a focus on relevance and enabling valued driven impact, the conference will address practical realities and needs, best practices, emerging issues, innovation, stakeholder roles and future sustainability. Digital inclusion is particularly important as the urgent need to diversify the economy away from dependence on oil and improve economic performance becomes more important. Join NCS in developing and setting the national digital inclusion agenda.
Theme:
Digital Inclusion: Opportunities, Challenges and Strategies
Venue: The International Conference Centre, University of Ibadan, Ibadan, Oyo State
Date: Tuesday, July 17 to Thursday, July 19, 2018
Sub-Themes:
Poverty Eradication and Job Creation in the Rural Digital Economy
Internet and Broadband for All
e-agriculture, e-health, e-education for inclusion: Software and Local Content
Digital Gender Equality and the Empowerment of Women
Tech Startups, SMEs and Youth Entrepreneurship
E-Voting and Election Management
New Technologies for Economic Growth and Diversification
Digital Literacy, Knowledge Culture and Human Capital Development
Policy and Regulatory Framework
e-Government, Citizen Engagement and Open Government
FinTech, e-Commerce and Financial Inclusion
Digital Empowerment of Persons with Disabilities
Innovative Collaboration and Partnerships
Cybersecurity: Awareness, Threat Protection and Digital Rights
Innovation for the Elderly, Internally Displaced Persons and the Vulnerable
Highlights:
Keynotes
Plenary and Parallel Sessions
Networking & Collaboration opportunities
Exhibition and Products Launch
Closing Banquet
Registration Fees:
Early Registration – Ends on April 30, 2018
Member
N45,000.00
Non Member
N50,000.00
Member Corporate
N42,500.00/Delegate

(Minimum of 4 Delegates)

Non Member Corporate
N45,000.00/Delegate

Minimum of 4 Delegates

NACOSS/NYSC

NCS Registered Only

N15,000.00
Mid Registration – Ends June 30, 2018
Member
N50,000.00
Non Member
N55,000.00
Member Corporate
N47,500.00/Delegate

(Minimum of 4 Delegates)

Non Member Corporate
N50,000.00/Delegate

(Minimum of 4 Delegates)

NACOSS/NYSC

NCS Registered Only

N15,000.00
Late Registration – After June 30,2018
Member
N55,000.00
Non Member
N60,000.00
Member Corporate
N52,500.00/Delegate

(Minimum of 4 Delegates)

Non Member Corporate
N55,000.00/Delegate

(Minimum of 4 Delegates

NACOSS/NYSC

NCS Registered Only

N15,000.00
Authors: N40,000.00 (One Author per Accepted Papers Only).
Online: Register and make payment online on the website, ncs.org.ng
Banks Deposit: Make payment into any of the following bank accounts and notify the Secretariat as soon as payment is made
Account Name: Nigeria Computer Society
First Bank: 2001762424
Zenith Bank: 1011565784
Skye Bank: 1770005146

Cancellation:
Request received on or before July 3rd, 2018: 50% refund
Request received after July 3rd, 2018: No refund
All cancellation requests should be sent to the Executive Secretary
The registration fee entitles you to:
Conference materials – Bag, Proceedings (Soft Copy in CDs only), Writing Materials, Identification Badge etc
Attend all Plenary and Breakout Sessions
Attend opening and Closing Ceremonies
Daily Lunch
Note: Printed copies of the Conference Proceedings will be available on sale at the rate of N4,000.00/copy.
Membership Induction Ceremony:
Induction of newly registered Professionals and issuance of membership certificate will come up during the Conference on July 19, 2018 at the Conference venue. Accreditation of inductees will commence on Wednesday 18th July, 2018 at the same venue.
Exhibition and Advertisement Rates:
The 27th National Conference provides opportunities for corporate organizations to showcase their products and services during the Conference by placement of advertisement in the event brochure or exhibition.
Advertisement:
Cover Pages: N250,000.00 (Only 3 spaces available)
Inner Pages: N200,000.00
Exhibition: N150,000.00/Exhibition Space
Accommodation: List of Negotiated Hotels available
For Further Enquiry on Registration, Sponsorship, Advertisement, Contact
The National Secretariat: Plot 10, Otunba Jobi Fele Way, Behind MKO Abiola Gardens, Alausa, Ikeja – Lagos.
Tel: +234(0)8097744600 | E-mail: conferences@ncs.org.ng
Taiwo on +234(0)8098647348| taiwo@ncs.org.ng or Goke on +234(0)8033475299| goke@ncs.org.ng
Abuja Office: Plot 1321, Aderemi Adesoji Street, Cadastral Zone B1, by Hot FM, Gudu District, Abuja
Sunday on +234(0)7033020271 | sunday@ncs.org.ng